Opportunities for learners to respond to what they are reading at Forfar Academy
Read our community success story about opportunities for learners to respond to what they're reading
Audience:
Additional Support Needs, Primary, Secondary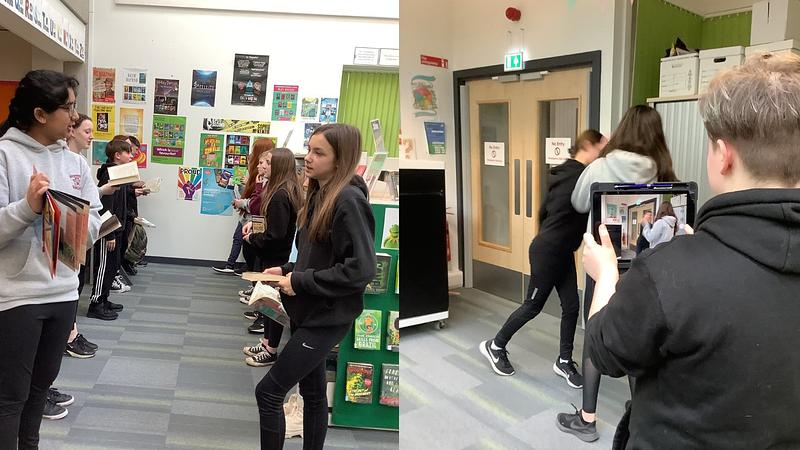 We have loved watching Forfar Academy work through their Core and Silver accreditations and are excited to see them coming back for Gold. Throughout their reading for pleasure journey, the school provided a variety of opportunities for their learners to respond to what they were reading. The results were fantastic, so we asked them to share their experiences and tips for engaged readers!
One of the biggest challenges that we've faced in our Reading Schools journey is getting teenagers to admit to reading. We're aware that they do, but often in secret as they worry about being teased by peers. By providing a variety of opportunities for our learners to respond to what they are reading, we can get information on what they are reading, as well as motivate them to read and share ideas with their peers.
Making time and space for sharing book chat
Every learner in S1 and S2 has a regular period that is spent in the school library. Although the bulk of this time is used for personal reading, it also provides the opportunity to do activities aimed at developing learners' reading and positive attitudes towards reading. Both the school librarian and class teacher can model how readers respond to texts and provide encouragement for learners to do similar.
Approaches are different depending on the class. One simple technique has just been to allow learners a few minutes at the end of the lesson to share what they've been reading and a few thoughts on it with others who are sitting around them. This creates a buzz of book talk around the room. An adaptation to this is going around the room and asking learners to tell the whole class the main action or facts from their reading that day, having pre-warned them that at the beginning of the lesson that this would happen.
We have also provided learners with post-it notes and asking them to describe their book in three words. This can then be used as the basis for a display, encouraging others to also read those books.
Book speed dating
A slightly longer and much noisier activity, which takes around 15 minutes, is 'book speed dating', where learners have 30 seconds to 'sell' their book to a partner. After each partner has taken their turn, the pairs are mixed up, until every member of the class has spoken to each other. This can be extended by asking learners to take a note of any books that they would like to read in future.
Digital projects: Book reviews, trailers and podcasts
We've successfully used digital projects to allow learners to respond to their reading. This can be as simple as asking groups of pupils to record video book reviews. A longer-term project that we have successfully run is to create reading circles where groups of learners all read the same book and set their reading targets. They then collaborate to plan and produce a book trailer championing their book. Members of our Senior Management Team judge which trailer was most influential, and then award small prizes.
A group of schools in Angus collaborated on a project where pupils read books on diversity themes and produced podcasts promoting those titles. The biggest challenge with all digital projects is time – they always take longer than intended!
Our aim is to show that reading is an enjoyable pastime, and these activities help demonstrate this, as well as allowing us to get to know learners as readers better.
At Forfar Academy, the combination of tailored reading activities and dedicated time for learners were key in encouraging students to express thoughts on their current reads. As a result, not only were organic conversation and book recommendations sparked but a better understanding of students – and their reading habits – was formed.
Related resources