Reading Schools case study (Silver): Braes High School
Discover how Braes High School in Falkirk achieved their Silver accreditation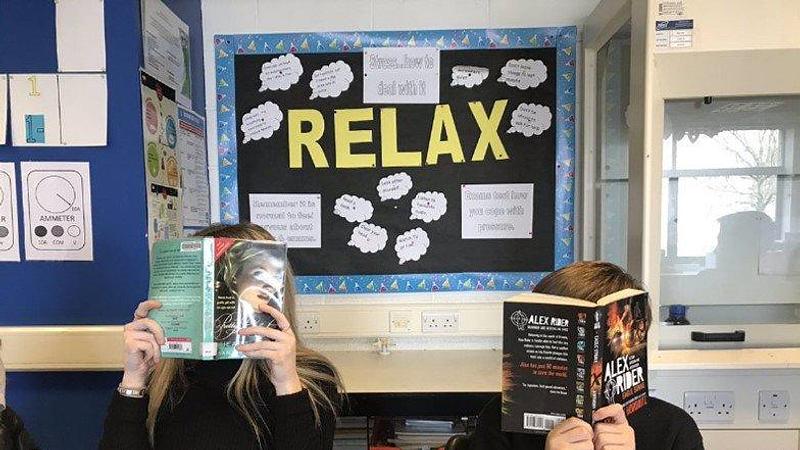 Setting off
With a clear vision for their Reading Schools journey, Braes High School in Falkirk embraced the challenges ahead and successfully achieved their Silver accreditation
Despite being relatively new to developing their reading journey, Braes were confident that their reading culture was going to take-off. Following a period of self evaluation and referring to the Reading Schools framework, a plan was formed placing learners at the very heart of the action, alongside the school librarian.
Pupil librarians would adopt the role of the reading leadership group, working closely within the school library but also across the whole school to bolster the relationship between the library and the classroom. One of the first actions undertaken by the pupil librarians was to create a regular newsletter for the whole school, cementing the importance of reading, promoting the library services and keeping every leaner informed of the fun to come!
'Reading has such a negative stigma, I wanted to change that'
Reading for pleasure: Classroom culture
A key focus for the school was ensuring and affording learners space and time to read for pleasure in the classroom as well as making reading prominently visible.
Great effort was made to create comfortable reading spaces within the classroom, relaxing learners to the point where they would often kick off their shoes. A bespoke area was created in the library, aptly titled Amani (which is Kiswahili for peace), where fundraising efforts enabled the purchase of soft furnishings and cushions.
With learners at the helm, reading was promoted and encouraged across the curriculum at every available opportunity, even the school's award winning breakfast club became a haven for reading and book chat.
Raising the profile of reading for pleasure in such a broad and inclusive way, garnered support and praise across the school, with total investment and an ever-growing team of reading ambassadors.
'There's a huge selection, you're never stuck with having nothing to read'
Tech talk
COVID-19 presented more than a few challenges for Reading Schools, but Braes High School not only rose to them, but blew them out of the water.
In school, learners had made excellent use of digital media to promote reading, such as a prominent 'Bookflix' display, Scottish Book Trust's Bookzilla app and digital library resources, laying foundations for what would become a lengthy spell of home learning.
Throughout lockdown the school was quick to use Microsoft Teams to promote reading at home, audiobooks and e-book borrowing from the local library. As well as making great use of social media, learners and staff even managed to produce a fantastic 'Great Lockdown Book Share' video in partnership with Grangemouth High School.
On returning to school every effort was made to ensure learners had safe access to reading materials, with digital resources on hand and a virtual library tour for new pupils.
Supporting families
Recognising the importance of supporting not just learners, but also their families, a programme of family literacy sessions was delivered, allowing both carers and learners to initiate the linked activities. These 'Flourish' events covered a number of themes and encouraged families to actively participate and share their learning, the impact of which could be seen in increased confidence and continuing family involvement, both in school and at home.
'I'm good at listening but talking in big crowds makes me nervous, I have enjoyed presenting and reading in front of the smaller group.'
'I didn't really read before, only in classes with the teacher and I read for 5 minutes at the start of teach period in English. I have started to read a series of books now and I am really enjoying sharing what I have read with my dad.'
Wider impact
Reading Schools helped Braes to identify their strengths and where their reading culture was buoyant while also enabling them to identify further opportunities. Learners adopted leadership roles in the promotion of reading for pleasure and galvanised interest from their peers, creating a perpetuating love of reading.
Reading was cleverly laced across the curriculum, drawing on subject areas to further support a culture of reading.
Never taking the easy route, Braes embraced every endeavor with optimism, presenting learners with challenging texts while providing opportunities to respond to their reading, participate in awards and meet likeminded peers in themed book clubs.
Of great importance was the enthusiasm of learners and staff, not to mention a passionate and dedicated schools librarian, whose combined efforts have resulted in a plethora of successes.
Having secured their Silver accreditation in December 2020, Braes high school refuses to slow down. They have drawn much from their Reading Schools experience and have their eyes firmly fixed on the next level!
'One key thing we are most proud of is how reading for pleasure has been promoted across the school in a genuine, honest and organic way. Each aspect is sustainable and meaningful and should give us are really solid platform to push on for Gold level.'