Regular opportunities to read for pleasure at Whinhill primary school
Read our community success story for ideas on how to include regular opportunities to read for pleasure on your Reading Schools journey
Audience:
Additional Support Needs, Primary, Secondary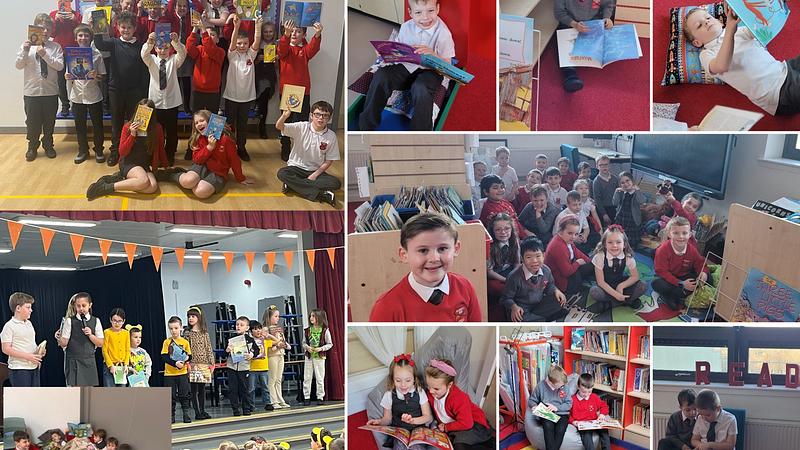 We have loved watching Whinhill Primary School work through their Core accredtiation and see them come back for Gold. Throughout their reading for pleasure journey, they ensured their school had a variety of opportunites to read for pleasure. We asked them to share their tips for amazing ways to have regular opportunites to read for pleasure.
Since 2018, we have been on a journey of building and maintaining a reading culture in our school and community. Our dedicated literacy committee, made up of pupils from P1 to P7, meet with us regularly to discuss ways of promoting literacy and reading throughout the school. We have hosted many challenges, competitions and reading events in school and shared our activities on Twitter. Undoubtedly, the literacy committee's enthusiasm combined with the opportunities that have materialised in growing our reading culture has helped bring our school community together.
Author visits and book swaps
From our involvement in the First Minister's Reading Challenge through the years, we have taken part in various literacy activities and secured funding for our own projects. The funding allowed us to have several author visits, as well as creating book swap boxes for our pupils and staff.
Our book swap boxes are placed throughout the school for independent use, where pupils and staff can donate or take books as they wish, keeping stock of the collection via sign-in sheets. This allowed us to see the use of the boxes and keep track of success in reading for pleasure across the school. We also held two very successful whole school book swaps, where books were donated and each child chose a new piece of reading material.
Getting parents involved
Reading Teddies was a scheme created for our infant classes to encourage reading at home and involve parents in our reading culture. Each class has their own teddy which they sign in and out of class which encourage their parents to read them at home as well as sharing their pictures and stories with the class.
Likewise, parents have become involved through various Twitter interactions (especially during lockdown) including: Extreme Reading Challenge, dressing up as book characters, and designing front covers to display in windows.
Literary celebrations
We also take part in literacy themed celebration days and events such as Book Week Scotland and Roald Dahl day. Literacy celebrations are a great way to get the whole school involved in activities that engage both pupils and their families in reading.
DEAR time
Our P7s read with their P1 buddies on a regular basis. Classes engage in DEAR time at least once a week, but during literacy celebrations, this is something we enjoy as a whole school. The sense of community that comes with all the pupils and staff reading together is second to none!
Engaging with the community
We are building a link with our local library and bookshop through visits and learning events, working alongside them to achieve our Gold Reading Schools accreditation.
We are also beginning our journey in a partnership with another local primary school and have plans to engage the children in a shared love of reading and more exciting reading events.
Watch our webinar short training video to learn more about this key area.