Reading Schools case study (Core): Antonine Primary School
Antonine Primary School were successful in achieving their Reading Schools accreditation in October 2020. They are now working towards Silver accreditation.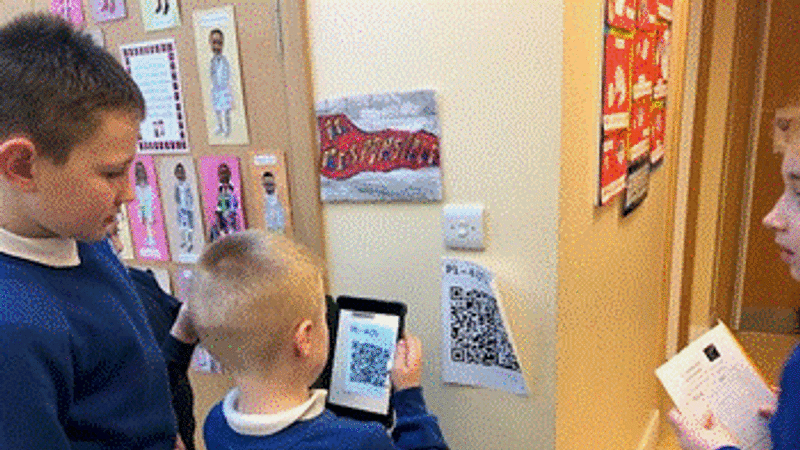 Setting off
Antonine Primary School in Falkirk hit the ground running with their Reading Schools journey, having participated in the First Minister's Reading Challenge for three years.
They had a clear idea of their reading culture and opportunities to develop. Prioritising reading and writing was identified through their school improvement planning, so there was a common focus to drive their activities.
After undertaking attitude surveys with both learners and staff, Antonine Primary School formed their Reading Leadership Group with Primary 7 Pupils, teaching staff, the deputy head teacher, and a librarian to promote reading for pleasure across the school.
'Being a mini librarian has helped me get better at my alphabet. I loved making the shelf labels to help everyone find books.'
Reading for pleasure: The Reading Forest
The leadership group embarked on administrative tasks, such as indexing library stock and creating resources. Their flagship project was the design and development of a Reading Forest: an environment and mindset to encourage and support reading for enjoyment, fostering a love of books and elevating their learners' experience. The Reading Forest involved:
Woodland-themed, leafy and tranquil reading areas with forest sounds to evoke the sense of being outdoors
TREE (Together Reading Excites Everyone) time
An outdoor library
Having the Reading Forest as a core focus allowed learners to play an active part in planning and implementation. It also raised the profile of reading for pleasure through whole-school investment.
'I like our new library, it has lots of books about animals and insects.'
Impact on staff
Antonine's Reading Schools experience was incredibly rewarding for staff. Opportunities arose for them to receive CPD training and become actively involved in the Forth Valley Regional Improvement Collaborative literacy group.
The Reading Forest encouraged free reading time in the classroom and encouraged staff to read too, modelling reading behaviours and supporting learners to find their next great read.
'The children are really enjoying seeing me read during TREE and will often ask what the book is.'
'My class are constantly checking me for updating my door sign to make sure I have added my new book to this.'
Opportunities were created for more conversations around books using resources like Book Jenga, regular reading circles, book discovery QR code hunts and building scenes in shoe boxes. This allowed teachers to understand learners' interests better and find enjoyable and sometimes challenging texts.
Staff also increased their knowledge of contemporary children's literature by using Scottish Book Trust resources and engaging with programmes such as (this will open in a new window)Authors Live. Activities and resources were actively shared among staff, creating a positive culture for professional development.
Supporting families
By surveying families and learning about their reading habits, Antonine developed a range of opportunities to meet families' needs, from building networks with the local library service to launching home reading challenges. The gap between home and school was closed, with families engaging in community book hunts and activities on social media, building on rich foundations and helping to foster a love of reading at home as well as at school.
'It allows us to have some nice quiet family time together. It feels like we are all going off on an adventure together.'
'[I enjoy] hearing my child's reaction to stories – hearing my child's progress in their own reading – the opportunity to spend quality time with my child.'
Wider impact
Reading Schools helped Antonine Primary cement reading activities and a framework to monitor their progress and success. Pupils regularly completed Reading for Enjoyment trackers, informing future activity and giving learners tangible, visual representation of their achievements.
Termly reading challenges became mainstreamed and linked to the Reading Forest, organising the schools' reading activities under one framework.
Creating an evaluated driver diagram helped build momentum behind the fantastic work already undertaken while also identifying areas for improvement.
The programme provided a coherent structure and clear progressive route where all literacy activities would be celebrated and documented, knowing that they would contribute to the school's wider aims and priorities.
Antonine Primary School were successful in achieving their Reading Schools accreditation in October 2020. They are now working towards Silver accreditation.