Reading leadership group at Hillhead primary school
Read our community success story for ideas on how to build and maintain a reading leadership group in your school
Audience:
Primary, Secondary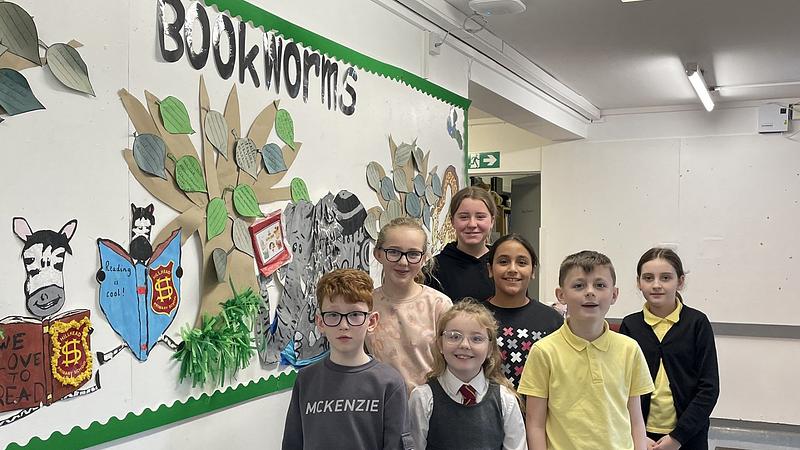 Hillhead Primary School started their Reading Schools journey with a reading leadership group. They involved the pupils from the beginning and their success took off from there, gaining them a Core accreditation. We asked them to share their brilliant tips for building and maintaining a reading leadership group.
The object was simple – achieve a Reading Schools Qualification for Hillhead Primary School by supporting pupils to develop a love of reading. . . but how to go about it?
Many heads are better than one, so following a staff meeting, we got our Literacy Focus group together and came up with a cunning plan.
Building the hype
First, we wanted to create a bit of a buzz amongst the pupils and decided to play hard to get. We offered them the chance to plan lots of fun activities and promote reading enjoyment for all within the school as part of a reading committee. But we didn't want to make it too easy – some dedication would be required.
Recruiting the reading leaders
Round one was self-promotion. To make the process inclusive, we adapted how pupils could apply for the positions available. Some wrote applications, some made impassioned pleas, some were 'encouraged' to put themselves forward. This accessibility was very important to us. We really wanted a voice for pupils with learning differences within literacy, who are generally fantastic and confident contributors, but who can struggle with the written word. The aim was to make reading for enjoyment accessible and fun for all. We were ready for the challenge.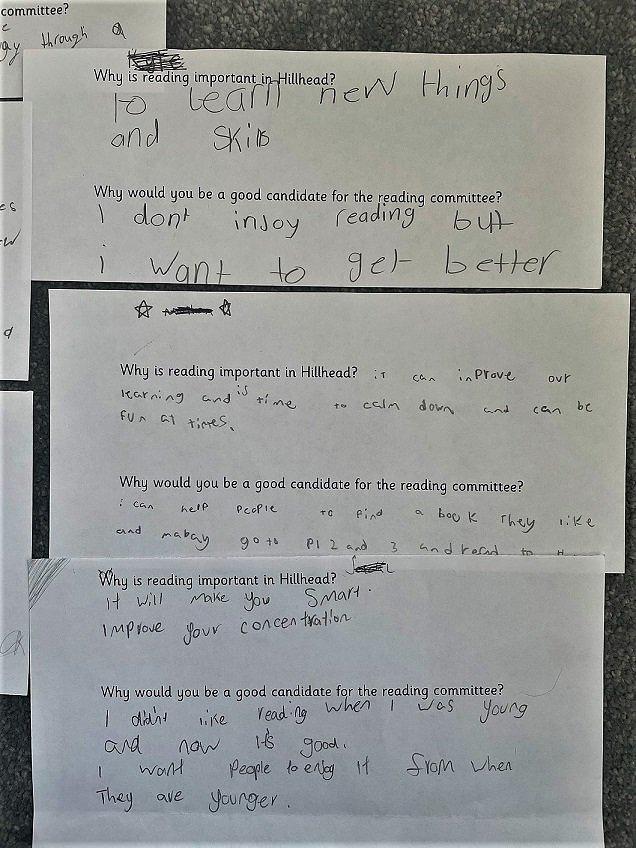 Pupils took to the idea with gusto and we were so impressed that we decided to rotate participants to ensure more pupils enjoyed this important role. Votes were counted, pupils were appointed and we were delighted to see great a representation of pupils with different levels of literacy amongst year groups.
Finding a place to meet
Next, we had to come up with a venue which is very challenging in a school like ours where no corner goes unused. We decided on the hall which, despite being a large space, was easily turned into a negotiating nook with some creative use of benches and soft furnishings. Why a negotiating nook, you may ask? Because our plan was to present possibilities to the pupils that they would discuss with their classes then come back with new ideas and make decisions on how to proceed. Like a kind of government. Obviously, we would be the ministers.
This Reading Committee was about to take talking and listening to a new level that successfully spans ages and stages.
Working in a structure while making things fun
We decided we needed to do things properly. We noted attendees and had an agenda. Each meeting began with a report on the class novels. (What was the title? Who wrote it? What rating had the class given and would they recommend it?) Then we would progress to the matter at hand, asking if the representatives had presented our proposals to their classes and what the response had been. How would we proceed? Then we negotiated, made a decision and set the next task.
The committee was good fun and a great success! We achieved our qualification thanks to the hard work and dedication of the pupils. Next, we reach for the stars with our attempt at the Silver award. Glistening trophy here we come!
Related resources
There are other resources that you may also find of interest for this key area: